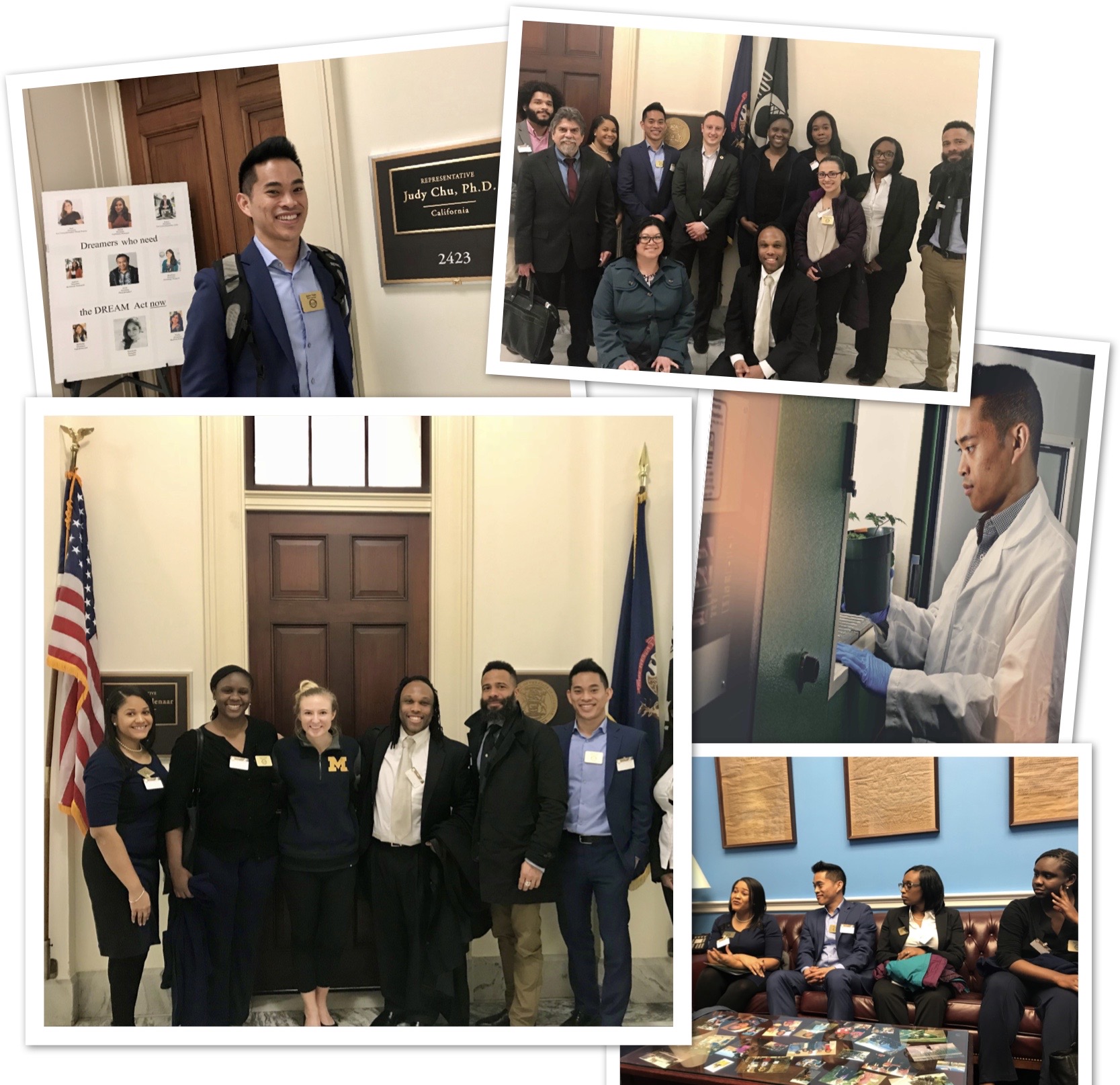 John recently received a fellowship to attend Washington, D.C. to speak at the People on The Hill event on Capitol Hill. John was advocating on behalf of the McNair Scholars Program and Graduate students.
By Juan Cervantes
The year you participated in the UC Davis McNair Scholars Program: 
2012-2014
Where are you currently a graduate student? 
I'm currently pursuing my P.h.D at Michigan State University in Plant Biology 
Tell me about your research interests and why you are passionate about this topic?
I study the lignification of plant cell walls, which is a developmental process that supports the upright growth of plants by reinforcing the strength of vascular tissue. I am passionate about this topic because of the potential for advancing biofuel technologies by reengineering the development of plant cell walls for easier biomass digestion, and therefore biofuel conversion.
What is the most helpful advice you've received?
The strategies that get me into a position may not be the same strategies that keep me there or help me advance. So, I had to understand how to shift strategies and gameplans to thrive and advance my work even if it means giving up the tools and techniques I have grown to be good at and comfortable with.
Who has influenced you the most in life?
My mom has a large influence on my decorum and how I interact with people. She's given me a lot of thoughts on what reciprocity means and looks like in relationships.
Growing up, what did you want to be?
Like most people who grew up in the 90s, my idea of 'self' was influenced by television. I wanted to be like Peter Parker (secret alias Spiderman) or Dexter (from Dexter's Laboratory). They were both scientists and I think watching these shows had a subconscious influence in my propensity towards the sciences.
Please share a favorite memory of UC Davis? 
I have many favorite memories of UC Davis! One that I share often is of my first meeting with my McNair research advisor at the time, Dr. John Harada. We were discussing my research poster for an upcoming Undergraduate Research Conference (URC) and I had trouble...lots of trouble explaining my research project (it was about gene regulation and how transcription factors are involved in turning on a gene involved in seed development). Instead of helping me explain my project, however, John sat across from me in silence, which was very intimidating, and gave me the opportunity and time to form my own response. We may have sat for an entire minute until he interjected. I look back and appreciate that opportunity so much because it helped me understand the rigor and level of preparation that goes into academic research.
Please share with us your McNair story and what impact would you say McNair had in your life?
I have recently been reflecting on the tutoring resources I received through the McNair program. I was struggling with my undergraduate biochemistry courses and on the cusp of academic probation from McNair, again. Once I started tutoring, I found out how necessary it was for my learning that I had someone who was experienced in facilitating my thinking and talking of the course material. Having a social partner in my learning is something I realized I needed not only in my undergraduate studies but also throughout my Ph.D. research at Michigan State University. So I am glad to have had those tutoring experiences with UC Davis McNair to recognize that. I want to also say I have been awarded the King-Chavez-Parks Future Faculty Fellowship. I am honored to receive this and it is not without the help of the McNair program at UC Davis which has prepared me.
What obstacles have you encountered in graduate school?
During the first two years of my Ph.D., I fainted twice due to panic attacks. I was susceptible to panic attacks presumably from the stressors I was failing to acknowledge in real-time. I was shocked when this first happened because I grew up participating in intensive sports like wrestling, cross-country, and track and field. It helped me realize I was not paying attention to my health and wellness as a graduate student.
What traits or habits of yours do you think have helped you the most in graduate school?
I think my best trait is that I am ready to fail, and therefore, I am ready to learn. I am also not very smart and my best habit is that I like to listen. So the combination of these things has helped me ask questions, stay curious, and not feel defeated when experiments or things go awry. Ultimately, these have become tools I use to build my resilience in graduate school.
What would people be surprised to learn about you?
I rather fail as a team, then succeed as an individual. And I think this attitude is largely reflected in how I view teaching and learning. If I am responsible for facilitating learning then it is my responsibility to ensure that every person is allowed to demonstrate their comprehension and receive feedback and guidance to move forward.
We always let our scholars know that self-care is an important thing besides academics. What are some of your current hobbies outside of academics?
I practice Brazilian jiu-jitsu (BJJ) which is a form of grappling. BJJ helps me become grounded because I grew up wrestling so it allows me to participate in an activity I am familiar with. Our academic research takes us into new, exciting, and unfamiliar territories that can often drain us of our confidence and self-belief. Being able to do BJJ helps restore those parts of myself.
Any words of advice for our scholars?
It is really hard to appreciate ourselves, especially when we need to the most. When I find myself down, I remind myself that I am a first-generation college student and the very first and only person in my extended family and friend circle to pursue a Ph.D. I have parents who speak very little English and are unfamiliar with the structure of academia, yet here I am at an R1 university doing research. Reflecting on where I am from helps me be reminded of how far I have come and regained trust in myself to be optimistic about the future.