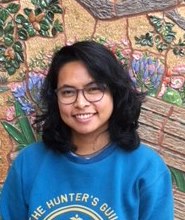 Jan Tracy Camacho
Hometown: Suisun, CA
Major: Mathematics
Mentor: Professor Rebecca Ambrose
Mentor's Department: Education
Research Interest: Exploring the role of social networks in the persistence of STEM students in community college
Kerstin Fontus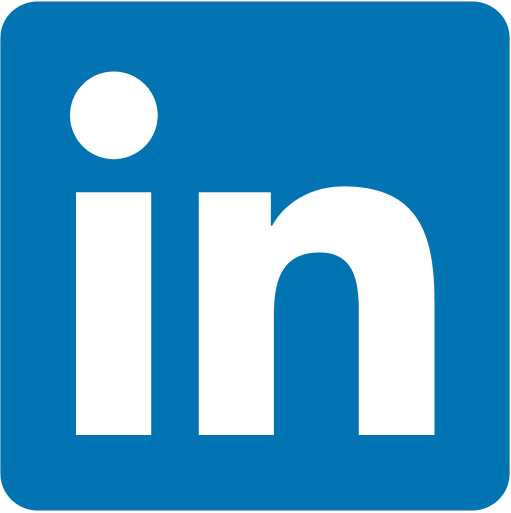 Hometown: Sacramento, CA
Major: Mathematics
Mentor: Professor Bruno Nachtergaele
Mentor's Department: Mathematics
Research Interest: Grounds State Degeneracy of Two Quantum Spin Rings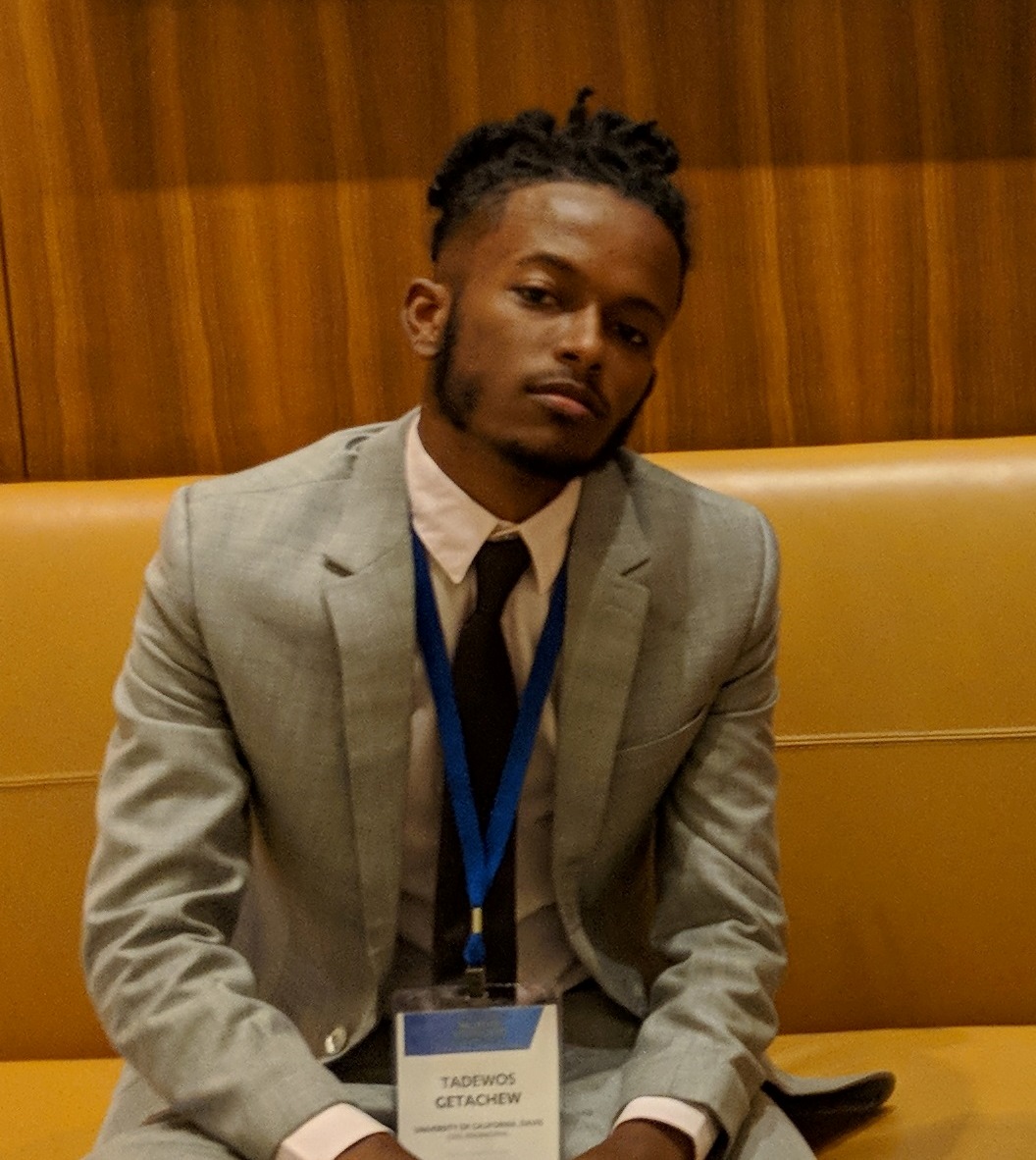 Tadewos Getachew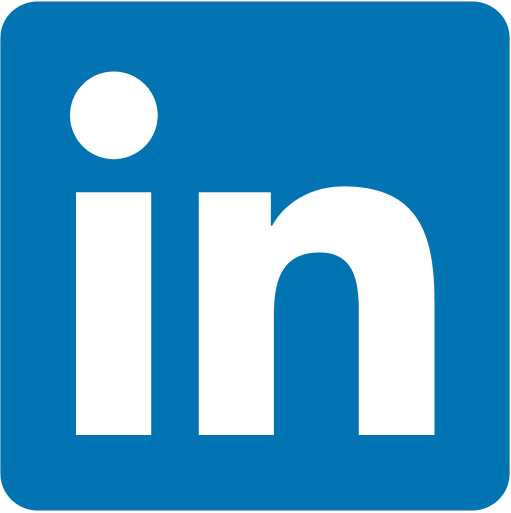 Hometown: Addis Ababa, Ethiopia
Major: Civil Engineering
Mentor: Professor Frank Loge
Mentor's Department: Civil and Environmental Engineering
Research Interest: Urban Metabolism Analysis: A Case Study of Addis Ababa, Ethiopia 
Update: Tadewos was accepted to University of Michigan Environmental Engineering masters program.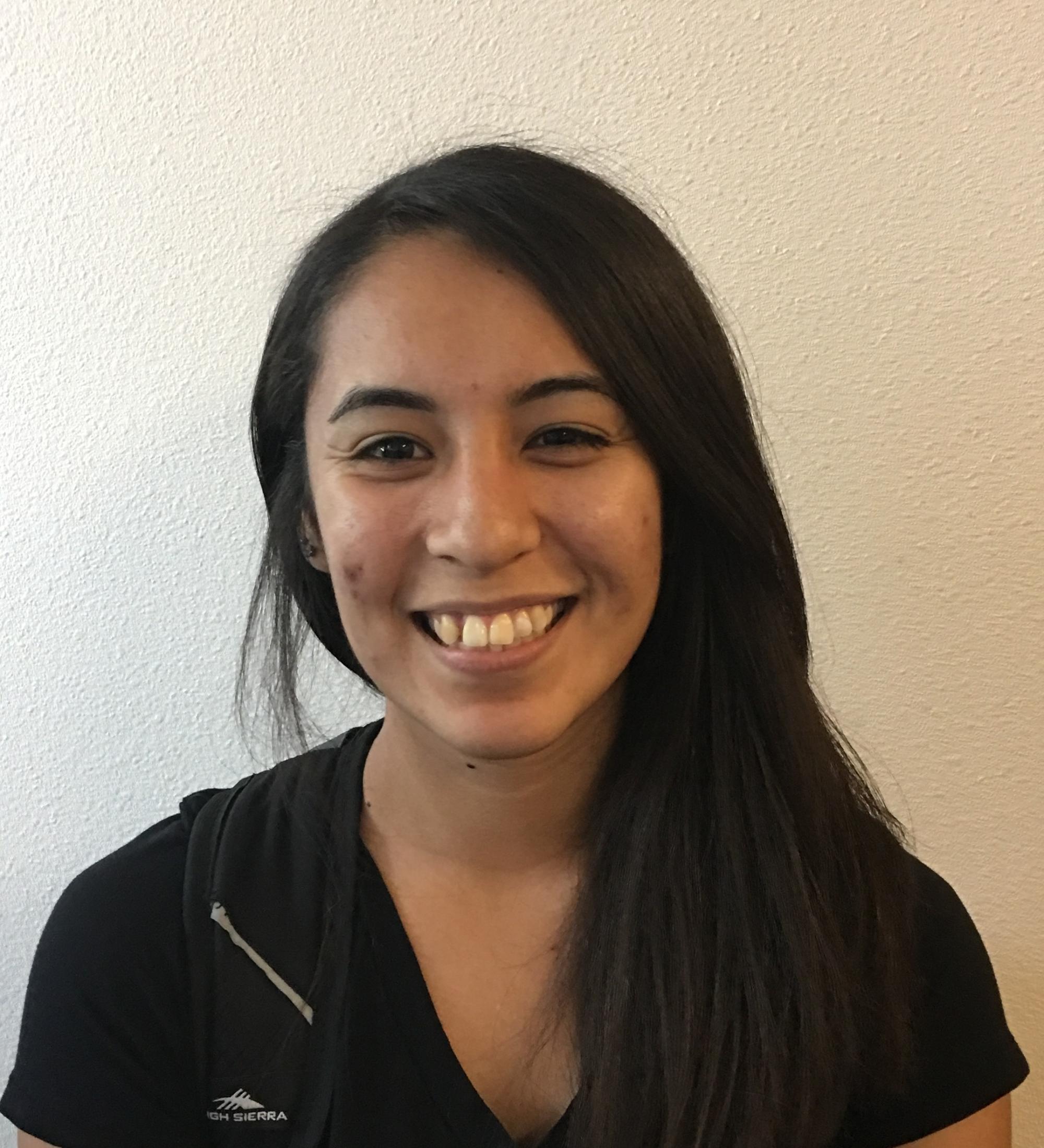 Viviana Hernandez
Hometown: Hamilton, CA
Major: Animal Science
Mentor: Professor Frank Mitloehner
Mentor's Department: Animal Science
Research Interest: Dairy liquid manure additives to reduce greenhouse gas emissions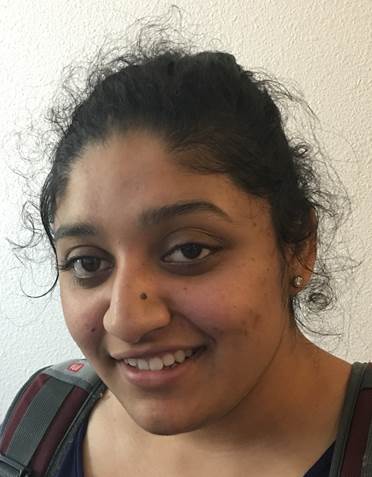 Zoreen Mohammed 
Hometown: Suisun City, CA
Major: Biomedical Engineering
Mentor: Professor Marc Faceiotti
Mentor's Department:
Research Interest: Development of genetic in-situ sensors for development in cartilage tissue engineering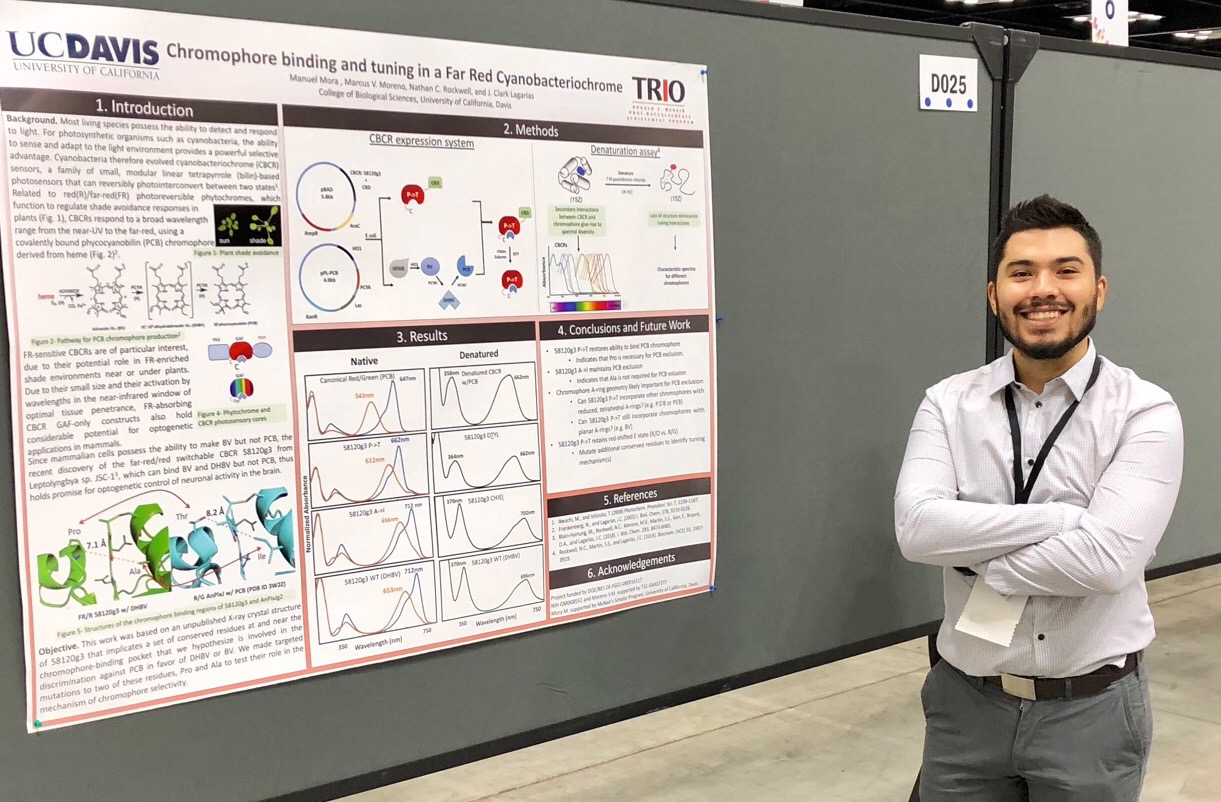 Manuel Mora
Hometown: Santa Ana, CA
Major: Molecular Biology
Mentor: Professor Clark J. Largarias
Mentor's Department: Biological Sciences
Research Interest:
Update: Manuel was accepted to UCLA Biochemistry and Molecular Biology Ph.D. program.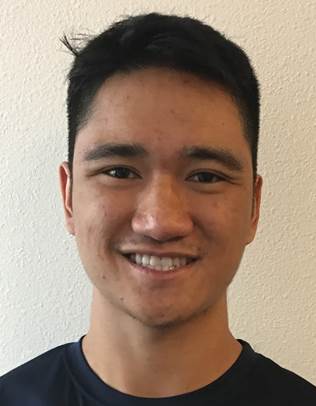 Minh Nguyen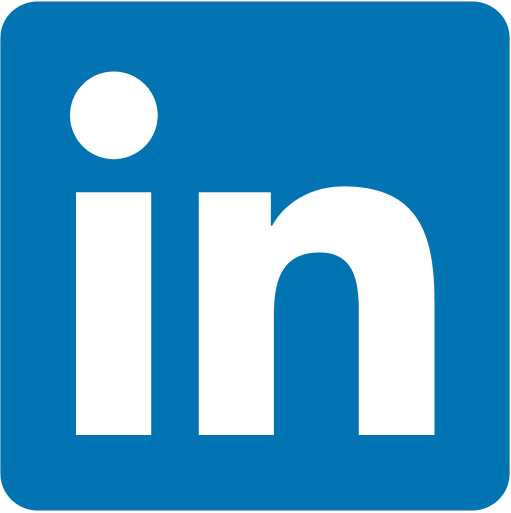 Hometown: Westminster, CA
Major: Chemical Physics
Mentor: Professor Lee-Ping Wang
Mentor's Department: Chemistry
Research Interest: Benchmarking Density Functional Approximations, Atomics Basis Sets, and Solvent Models in Predicting Thermodynamic Hydricities in Organic and Organometallic Species
Update: Minh was accepted to UCLA Chemistry & Biochemistry Ph.D. program.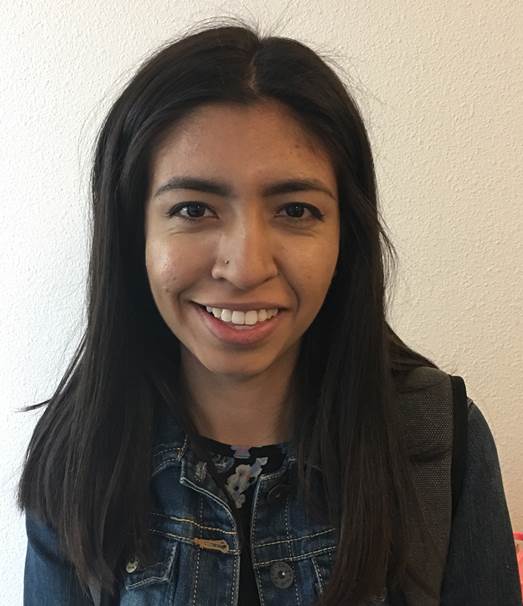 Andrea Ramirez
Hometown: Woodland, CA
Major: Psychology & Spanish
Mentor: Professor Katherine Graf Estes
Mentor's Department: Psychology
Research Interest: Infant-Directed Speech in Bilingual Parents
Update: Andrea was accepted to UC Davis Psychology Ph.D. program.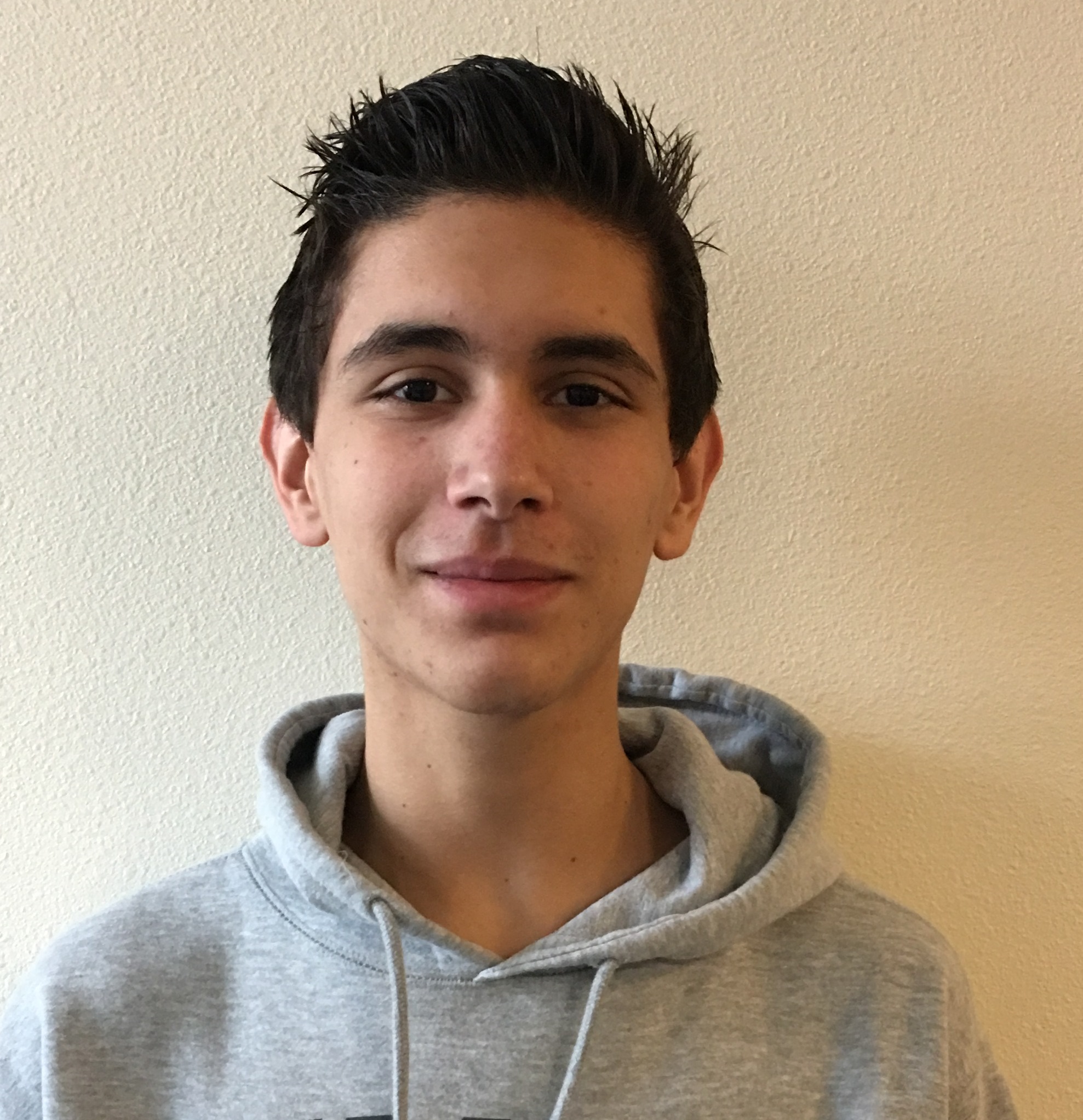 Victor Rivas
Hometown: Whittier, CA
Major: Animal Biology
Mentor: Professor Carrie Finno
Mentor's Department: Biological Sciences
Research Interest: Investigation of putative mutation in GNA11, CASR, & TRPM6 in hypocalcemic thoroughbred foals
Update: Victor was accepted to UC Davis Integrative Genetics & Genomics Ph.D. program.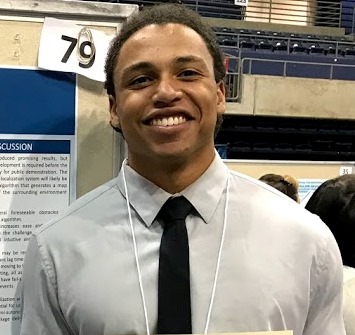 Gabriel Simmons
Hometown: Sacramento, CA
Major: Mechanical Engineering
Minor: Computer Science
Mentor: Professor Nelson Max
Mentor's Department: Computer Science
Research Interest: Software Framework for Augmented-Reality Multiplayer Quadcopter Gaming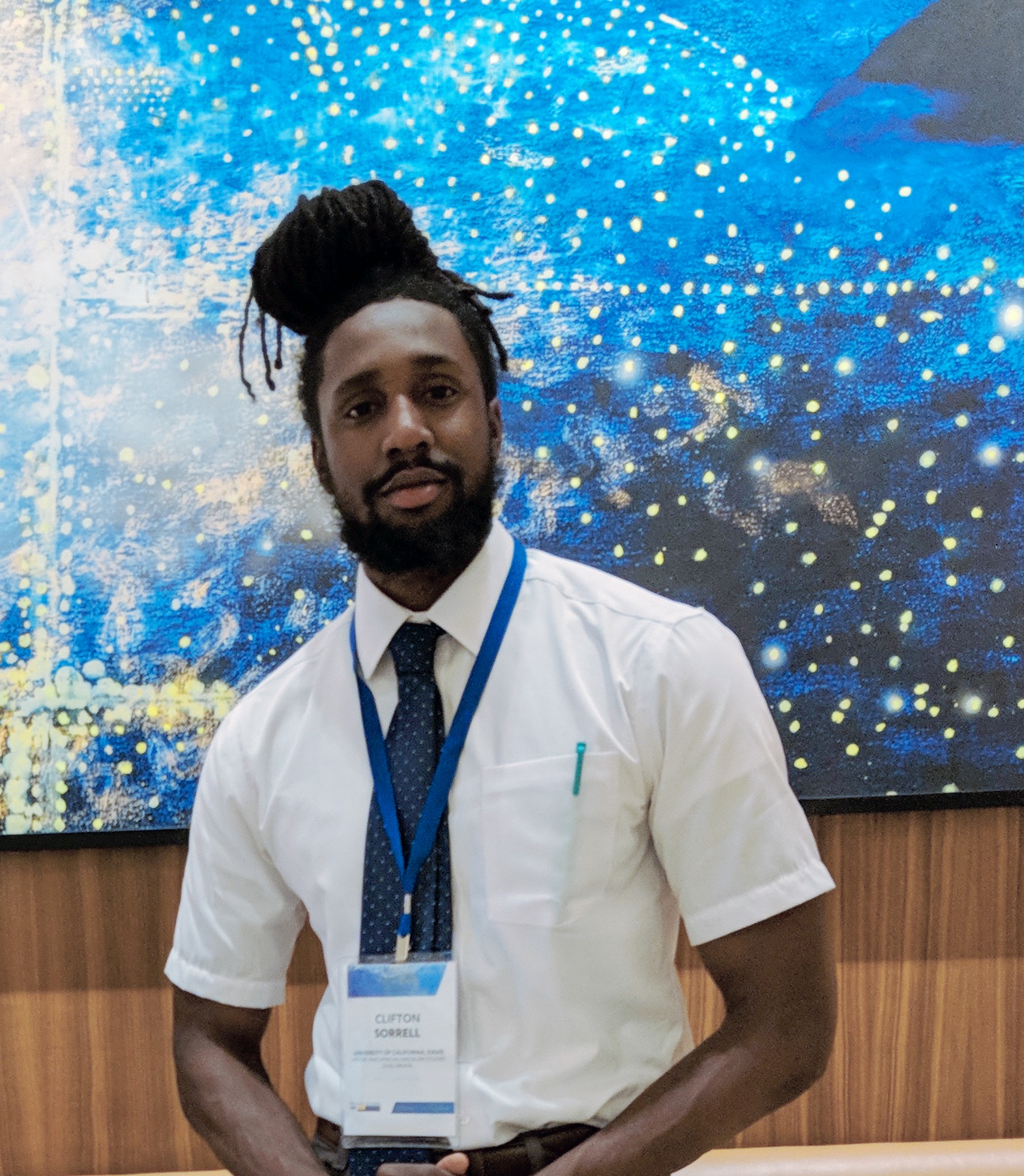 Clifton Sorrell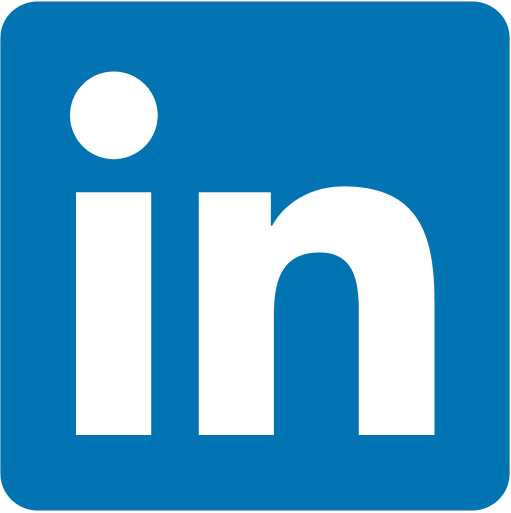 Hometown: Hercules, CA
Major: African American Studies & History
Mentor: Professor Justin Leroy
Mentor's Department: History
Research Interest: Captivity, Power, and Resistance in 18th Century Jamaica and New York
Update: Clifton was accepted to University of Texas at Austin History Ph.D. program.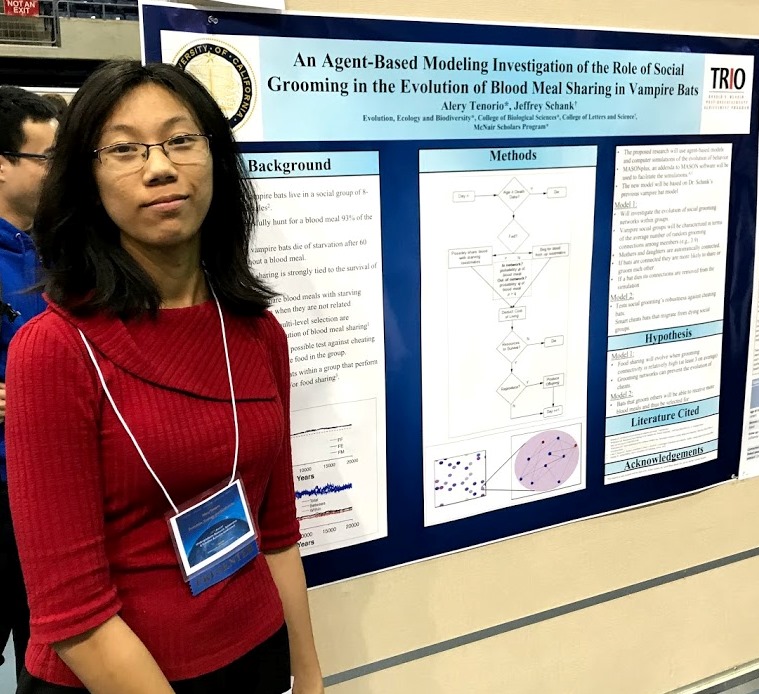 Alery Tenorio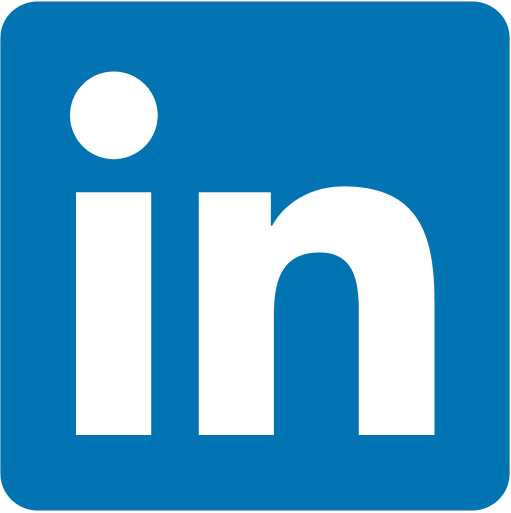 Hometown: Fairfield, CA
Major: Biological Sciences
Mentor: Professor Jeffrey Schank
Mentor's Department: Psychology
Research Interest: Evolution of Food Sharing Behavior and Social Grooming Networks in Desmodus rotundus with Agent-Based Models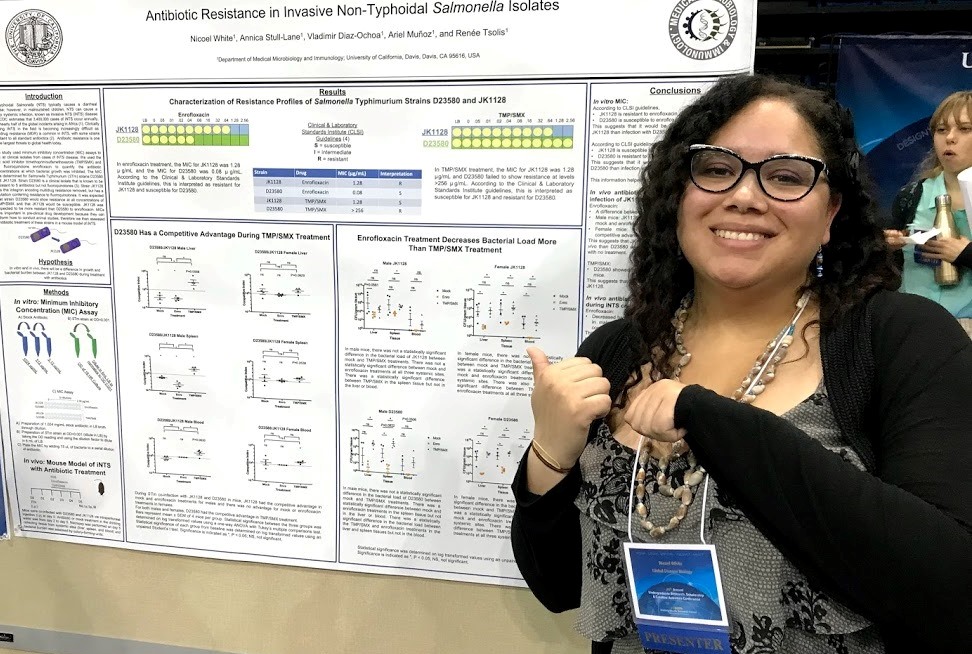 Nicoel White
Hometown: Fortuna, CA
Major: Global Disease Biology
Mentor: Professor Renee Tsolis
Mentor's Department: Micro Biology Immunology
Research Interest: Assessing vitamin A treatment to combat multi-drug resistant invasive non-typhoidal salmonella disease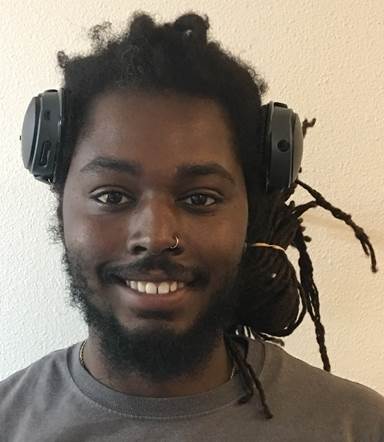 Nathandis Wyley
Hometown: San Diego, CA
Major: Electrical Engineering
Minor: Mathematics
Mentor: Professor Hussain Al-Asaad
Mentor's Department: Electrical & Computer Engineering
Research Interest: FPGA-based real-time analysis of the effects of battery charging methods on the energy storage in small-scale portable devices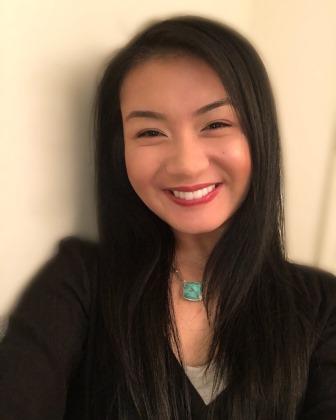 Susanna Zheng
Hometown: San Francisco, CA
Major: Psychology
Mentor: Professor Karen Bales
Mentor's Department: Psychology
Research Interest: Variation in cortical oxytocin receptor density in voles with differing amounts of parental care