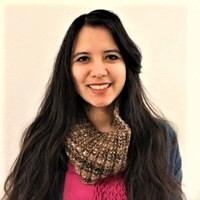 By Juan Cervantes
What attracted you to your major field of study?
My interest in fashion began by watching my grandmother sew clothing for my twin sister and I in Los Angeles. She learned how to sew in El Salvador and worked in LA clothing factories. I attended Downtown Magnets High School in Los Angeles, UC Davis (BA), and Cornell University (MA, Ph.D.) to pursue my interests in design, sustainability, and research.
The year you participated in the UC Davis McNair Scholars Program: 
2001-2003
Which institution did you receive your Ph.D.?
Cornell University
What was your Ph.D. dissertation title?
Slow Fashion in New York State: Exploring Farm-to-Fashion Intersections
Background on current work or research?
My research interests include exploring the intersections of fibers, fashion, agriculture, and technology to support a local clothing and textiles economy. I previously surveyed and interviewed several U.S. small business owners and entrepreneurs who are part of a farm-to-fashion supply chain for sustainable fashion. My current research involves exploring the use of emerging technology, such as virtual reality, to understand how it can be used to expand knowledge about rare sheep and wool from small farms in the U.S.
What is your favorite part of your job?
Interacting with students and seeing how surprised they can look when they learn something new. I've also started to work with undergraduate students interested in research.
Please share a favorite memory of UC Davis? 
Participating in the Student Fashion Association Fashion Show.
Who has influenced you the most in life?
My mom who always asked if it was possible to get a Ph.D. in my major.
Please share with us your McNair story and what impact would you say McNair had in your life?
The McNair Scholars program at UC Davis played a significant role in helping me learn about research and apply to graduate school as a Fashion Design Scholar. My mom always asked if it was possible to get a Ph.D. in my major, but until I became a McNair Scholar, I didn't really know the possibilities. During the McNair courses, I was able to work on my personal statement and look for graduate programs. I was encouraged to take a graduate course when I was in the McNair program and I took a course in the Textiles program focused on sustainable fashion. This allowed me to interact with graduate students and work on a collaborative research proposal. While I was a McNair Scholar, I was also a semi-finalist for the Paul & Daisy Soros Fellowship for New Americans. The McNair program helped me prepare for the interviews in NYC. Even though I didn't receive the fellowship, it was a great learning experience and it helped me build confidence to apply to other prestigious fellowship opportunities. Based on my experiences, I helped 2 UC Davis alumni become semi-finalists and they also received interviews. Since I was interviewing for the fellowship, I added this detail to my applications. There aren't many Ph.D. programs in my field, and several universities require applying to the Master's first. I applied to both Master's and Ph.D. programs, and Cornell University was my top choice. I used statements that I developed for the Soros Fellowship for my graduate applications, and I received a SUNY Diversity Fellowship when I was accepted to Cornell as a Master's student. Overall, the UC Davis McNair program provided foundational support and I don't think I would have been able to attend an Ivy League university or become a Professor if I wasn't part of the program. 
What traits or habits of yours do you think have helped you the most in graduate school?
Traits that helped me during graduate school were being patient and persistent. I learned new technical skills when I was in graduate school, and it was skills that weren't necessarily in the academic curriculum. I attended classes and workshops that were hosted in the local community and in the university library. I was able to integrate the new skills into my research and present it to my department. This included developing short films about collaborative research projects by using Adobe Premiere, learning to create yarns from locally sourced wool-alpaca-mohair, and creating strong map visuals using Geographic Information Systems software.
What are the biggest obstacles to obtaining your Ph.D.?
It was helpful to do my Master's and Ph.D. continuously instead of taking a break. I think I would have lost momentum if I took a break in between since my Ph.D. was based on my Master's research. An obstacle to doing graduate studies continuously was finding ways to stay motivated, especially in a highly competitive environment. Early on in my Ph.D., I decided to divide my research into research manuscripts that I would try to publish in the future. This helped me set milestones for myself and also show progress to my department. To date, three of the manuscripts were successfully published, one is in the press, and I am still working on the last one.
What is the most helpful advice you've received? 
As an undergrad, the most helpful advice I received was to take a graduate course. I had to convince the Professors to let me take it because I was interested in graduate school. I felt a bit awkward during the first few sessions since I was the only undergrad, but it was a great experience that reflected what graduate courses would be like.
What would people be surprised to learn about you? 
I have a twin sister who also studied Fashion Design at UC Davis and obtained her Master's at Cornell. Her specialty is in fiber science and chemistry.
We always let our scholars know that self-care is an important thing besides academics. What are some of your current hobbies outside of work?
Spinning yarn from natural fibers, I learned this when I was starting graduate school. I also like to knit, but I find spinning the fibers more relaxing.
Any words of advice for our scholars?
Try to take advantage of as many resources available to you. Also apply to prestigious universities, fellowships, and scholarships because your unique background can help your application stand out. If you don't get accepted or receive the fellowship, you can ask for feedback that can help you in future applications. Please feel free to email me if you have any questions.