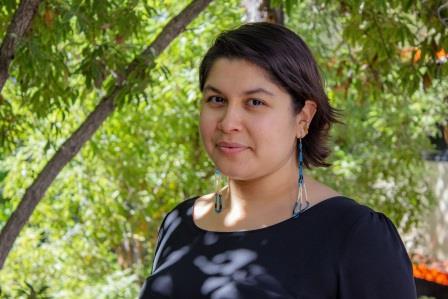 By Juan Cervantes
What attracted you to your major field of study?
Shanae Aurora Martinez is an Assistant Professor of English specializing in Indigenous Literatures at California Polytechnic State University in San Luis Obispo. She holds degrees from the University of Wisconsin-Milwaukee and the University of California at Davis. She has served as an editor and labor organizer, and her work can be found in Studies in American Indian Literatures, The Georgia Review, and The Cream City Review.
The year you participated in the McNair Scholars Program:
2007-2008 cohort
Which institution did you receive your Ph.D.?
University of Wisconsin-Milwaukee
What was your Ph.D. dissertation title?
Guides and Guidance: Subverting Tourist Narratives in Trans-Indigenous Time and Space
Background on current work or research?
Indigenizing knowledge production and critical pedagogy through narrative space-making
Please share a favorite memory of UC Davis? 
I have very fond memories of my time working at the Chicana/Latina Research Center with Professor Ines Hernandez-Avila. Meeting so many amazing WoC within this communal space enabled me to envision my own place in academia.
Please share with us your McNair story and what impact would you say McNair had in your life?
McNair opened many doors for me as a first-generation, working-class, Xicanx college student. They tell you "Once a McNair Scholar, always a McNair Scholar" and it is the absolute truth. I immediately found community wherever I was as a McNair scholar because we immediately recognize our shared challenges and ambitions.
What were the biggest obstacles to obtaining your Ph.D.?
I struggled with a lot of guilt. As someone with a working-class background, it was difficult for me to accept that my job was to read and write, especially when I had a research fellowship that excused me from teaching. I had to remind myself that my family's struggles enabled me to be in this position of professional privilege. In order to honor them, I had to do my job as a scholar even though it felt like I was never working as hard as they were.
We always let our scholars know that self-care is an important thing besides academics. What are some of your current hobbies outside of work? 
It is not exactly a hobby, but therapy, therapy, therapy! Academic institutions are built on oppressive ideologies and it takes a lot of internal work to navigate them in a way that aligns with your values and interests. Nature is also healing, so take walks, get sunshine, pet furry friends, and invite friends to join you for non-academic socializing on a regular basis.
Any words of advice for our scholars? 
These institutions were not made for us, but that does not mean we do not belong here, so take up space.